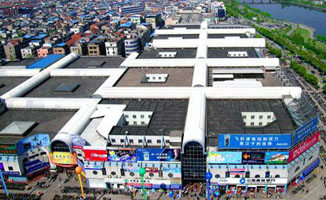 Yiwu Huangyuan Market - Yiwu small commodities market
Huangyuan market , Yiwu small commodities market is the most obvious characteristics of the market for small commodities core markets in the world, in 1992 opened in Yiwu City in Zhejiang Province Huang Yuen Road No. 51 . Huangyuan Market of China Commodity City has a building area of 160,000 m². The hardware facilities and booths configuration in the market gain remarkable improvement and enhancement after three market layout adjustments in 2002, 2004 and 2005. Now, it has four main industries that cover daily-use general merchandise, cotton knitting, shoes , thread and ribbons. There are over 7000 booths, above 15,000 business entities and more than 30,000 average daily customer flow volume in the market.

Huangyuan Market has a strong cohesion and outstanding advantage of commodity features. The commodities are sold all over the nation and exported to 191 countries and regions. Hundreds of famous domestic shopping malls and distribution companies come to Huangyuan Market to purchase billions Yuan worth of commodities every year. The exportation of commodities grows rapidly and an average of more than 3000 foreign trade companies and foreign agents come to sourcing in the market everyday.
Huangyuan Market boasts standard management, superior service and convenient transportation that has Jiangbin Parking Lot and many bus routes around the market. It is an appointed shopping & tourism spot by Zhejiang Tourist Bureau and a "Three-star Market" titled by Provincial Industrial & Commercial Bureau.
Huangyuan market traffic convenience, management norms, matching Jiangbin car parks, a number of bus lines encircling direct, Zhejiang Tourism Bureau is the designated shopping tourism sentinel units.

Yiwu Market Agent Service
Our company working as your export agent, offers professional services of international trade, we will supply you all our service as follow :
Pick you up on airport ( Shanghai Airporti, HangZhou Airport , Yiwu Airport )
Hotel reservation.
Translator and market guiding
Purchase & forwarding agency, export service
Free Warehouse, Quality inspection
International freight
We opening our offices in Yiwu, China, our employees all native-born and with unparalleled experience in the International trade. With our strategic location at Yiwu, we are able to source over 320 thousand varieties of goods of 1,502 categories for you. You can buy daily products from yiwu , such as bowl, box, container , cup, hanger, link, clip , hardware, mirror, garbage can, vacuum bag , mop, broom, brush , slippers , kitchen products, vegetables plank, tray, basket son , towel, mattress, shower cap , wardrobe, ironing board, hanger ...etc.
We are exporting products made in China to overseas include India, USA, Canada, UK, South Africa ... etc. We hope to be your professional trading, purchasing, buying, export agent in Yiwu, China. Welcome to visit our online showroom to get ideas or if you have any product request feel free to contact us for more information .
Yiwu Office Tel No. : +86-579-85136180~2
Address : 2F No.8 Building 2, No.572, Zhongze Road, Yiwu, Zhejiang, China

China Direct ! focused on providing sourcing services in China , supply corporate gifts , promotional products and trade show giveaway items.
Copyright © 2007-2008 China Direct ! All rights reserved. Web Site Design , Marketing , Advertising by Ginifab .