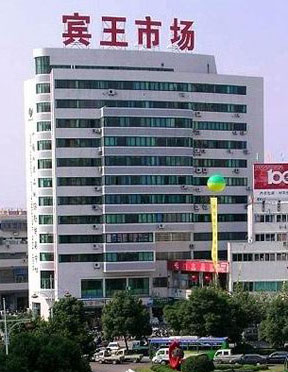 Yiwu Binwang Market - China Commodity City
China Commodity City Binwang Market was opened in November 29,1995, it is one of the three main markets of commodity city. Owns a total area of 209 Mu, and building area of 320,000 m²., the market locates in No.158, Binwang Road of Yiwu, close to railway station, it consists of 7 parts including 5 trade sections, cosmetic market, international trade center etc. There are more than 9,000 booths, 20,000 odd employed.
The market mainly deals with 17 categories covering garment, knitting underwear, tie, wool, towel, leather, textile, lace, bedding, non-staple food, dry fruit, candy, roasted seeds and nuts, smallwares, cosmetic, furniture.
It boasts top-grade hardware facility, complete fire security, water and power supply system with three fire control centers, over 58 sets of fire equipments, 10,000 pieces (sets) of dry-chemical extinguishers, the fire facility takes intellectualized fire alarm interlink system, intellectualized smoky alarm, automatic water spray and water curtain separated system; the power supply system adopts double circuits system, two 10KV power suppliers and other 75 sets of main equipments.
Binwang Market A Section
The first floor is garment section with 2,177 booths and covers an area of 9,600 m²., mainly manage retail and wholesale of fashionable dress.
Second floor is retail and wholesale of elaborate knitting underwear and bedding with 1,175 booths and 9,600m² business area.
The third floor is leather garment section with 48 booths and 1,008 m² business area.
Binwang Market B Section
The first floor deals with garment with 1,513 booths and 7,024 m² business area. Mainly dealing in wholesale and retail of children's wear, pants and so on.
The second floor is bedding section with 193 booths and 7,024 m² business area.
Binwang Market C Section
The first floor deals in non-staple food and smallwares business with 670 booths and 6,246 m² .
The second floor is towel section with 188 booths and 6,246 m² business area.
Binwang Market D Section
First floor is non-staple food trade section with 834 booths and 4,740 m² area.
The second floor is only tie trade section with 102 booths and 4,740 m² of business area.
Binwang Market E Section
It is textile section with 402 booths and 6065 m². of total area which mainly deals with textile face fabric, accessory, decorated cloth etc.
Yiwu Market Agent Service
Our company working as your export agent, offers professional services of international trade, we will supply you all our service as follow :
Pick you up on airport ( Shanghai Airporti, HangZhou Airport , Yiwu Airport )
Hotel reservation.
Translator and market guiding
Purchase & forwarding agency, export service
Free Warehouse, Quality inspection
International freight
We opening our offices in Yiwu, China, our employees all native-born and with unparalleled experience in the International trade. With our strategic location at Yiwu, we are able to source over 320 thousand varieties of goods of 1,502 categories for you. You can buy daily products from yiwu , such as bowl, box, container , cup, hanger, link, clip , hardware, mirror, garbage can, vacuum bag , mop, broom, brush , slippers , kitchen products, vegetables plank, tray, basket son , towel, mattress, shower cap , wardrobe, ironing board, hanger ...etc.
We are exporting products made in China to overseas include India, USA, Canada, UK, South Africa ... etc. We hope to be your professional trading, purchasing, buying, export agent in Yiwu, China. Welcome to visit our online showroom to get ideas or if you have any product request feel free to contact us for more information .
Yiwu Office Tel No. : +86-579-85136180~2
Address : 2F No.8 Building 2, No.572, Zhongze Road, Yiwu, Zhejiang, China

China Direct ! focused on providing sourcing services in China , supply corporate gifts , promotional products and trade show giveaway items.
Copyright © 2007-2008 China Direct ! All rights reserved. Web Site Design , Marketing , Advertising by Ginifab .