Yiwu International Trade City Market ( Yiwu Futian Market )
Yiwu international trade city situated on the Chouzhou road of the 'First City of China' - Yiwu, in Zhejiang Province, Yiwu International Trade City (also called Futian Market) is a modern international specialty market. Futian market consist of 4 main buildings, the 4th building will be completed in Oct.,2008. all the above boothes in Huanyuan market and Socks market will move to futian market after October, 2008.
First Phase Market ( consisit of District A,B,C,D,E with 4 floors )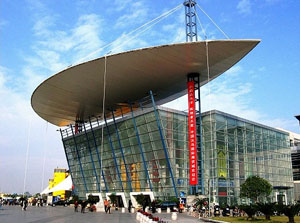 It is divided into five main business areas: subject of the market, manufacturer outlet center, shopping center, warehousing center and catering center. There are more than 9,000 booths and over 10,500 business entities in total. Goods sold in this market mainly fall into four categories: craftworks, ornaments, toys and flowers.
1st floor deals in artificial flowers and toys
2nd floor for fashion jewelry, hair ornaments, arts & crafts
3rd floor, manufacturer outlet center
4th floor and sourcing center of foreign trade companies in the east subsidiary building.
The International Trade City Ⅰ is an appointed shopping & tourism spot by Zhejiang Tourist Bureau and is titled the first "Five-star Market" of Zhejiang province by Provincial Industrial & Commercial Bureau. In 2005, the market passed the assessment of national AAAA Tourist Attraction.
Second Phase Market (District F & G)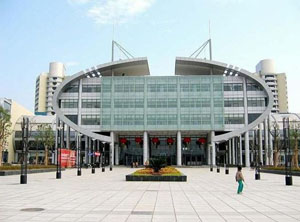 The second phase of the Yiwu International Trade City was put into use in 2005. With a total of fifteen thousand booths, this market deals with a wide range of merchandise including cultural articles, sporting goods, cosmetics, spectacles, fasteners, zippers, hardware, electronic implements, luggage, bags, clocks, watches, and rainwear.
The first floor deals in suitcases & bags, umbrellas and raincoat;
the second floor deals in hardware tools & fittings, electrical products, locks and vehicles;
the third floor deals in kitchenware & sanitary ware, small home appliances, telecom facilities, electronic instruments & equipments, watches & clocks etc;
the fourth floor is manufacturer outlet center and other high-class business area such as HK Hall, Korea Hall, Sichuan Hall etc;
on the fifth floor, there is sourcing & service center of foreign trade;
And the market has business building, office building, four-star hotel, east and west square as well as sightseeing bus around the market
Yiwu International Trade City Phase 3 ( district H )

The third phase of Yiwu International Trade City located in the area west of Chunfeng Avenue, north of Yinhai Road, East of Futian Road and south of Chengxin Avenue. The total site area is 840 Mu, and the total building area is 1.75 million m 2 ,including 0.32 million m2 underground building area and 1.43 million m2 aboveground building area.
Increases new facilities and services, such as inner entertainment walking street, the passsenger conveyer in ground floor which has been used in international airports, service center for purchasers and foreign dealers in the hall near the south entrance, the VIP halls from third floor to fifth floor, the function of news release, on-line e-business and information inquiry, electronic financial clearing center, on-line business center, wideband service, digital purchase guidance, and digital news releasing and inquiry system. Near each entrances of the market, taxi parking will be set. Meanwhile, several bus stops will be set around the market building for future circle bus routes.
The industries in the market cover cultural products, sports products, cosmetics, stationery, fitness equipments, garments accessories, eyeglasses, zippers, buttons, gifts packing materials and apparel accessories etc.
Yiwu International Trade City Phase 4
The 4th building is under construction, will be completed in Oct.,2008.
Yiwu Market Agent Service
Our company working as your export agent, offers professional services of international trade, we will supply you all our service as follow :
Pick you up on airport ( Shanghai Airporti, HangZhou Airport , Yiwu Airport )
Hotel reservation.
Translator and market guiding
Purchase & forwarding agency, export service
Free Warehouse, Quality inspection
International freight
We opening our offices in Yiwu, China, our employees all native-born and with unparalleled experience in the International trade. With our strategic location at Yiwu, we are able to source over 320 thousand varieties of goods of 1,502 categories for you. You can buy daily products from yiwu , such as bowl, box, container , cup, hanger, link, clip , hardware, mirror, garbage can, vacuum bag , mop, broom, brush , slippers , kitchen products, vegetables plank, tray, basket son , towel, mattress, shower cap , wardrobe, ironing board, hanger ...etc.
We are exporting products made in China to overseas include India, USA, Canada, UK, South Africa ... etc. We hope to be your professional trading, purchasing, buying, export agent in Yiwu, China. Welcome to visit our online showroom to get ideas or if you have any product request feel free to contact us for more information .
Yiwu Office Tel No. : +86-579-85136180~2
Address : 2F No.8 Building 2, No.572, Zhongze Road, Yiwu, Zhejiang, China

China Direct ! focused on providing sourcing services in China , supply corporate gifts , promotional products and trade show giveaway items.
Copyright © 2007-2008 China Direct ! All rights reserved. Web Site Design , Marketing , Advertising by Ginifab .