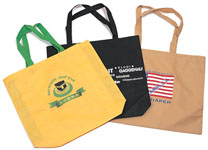 We will manufacture you custom printed non woven bags to your specifications !
We are specialized in manufacturing custom green (reusable non woven) bags , we have advantage in material, printing, and accessary supply chain; mature in technique and manage; convenient and fast transport for airway, sea, and highway shipment.
Our non woven polypropelene bags design and printing layouts are limited only by your imagination. we can custom design bags to suit your specific colour, shape and style requirements so you can have a unique look that stands out from the rest.
Eco Friendly Bags
Our reusable shopping bags reduce the use of plastic shopping bags - an environmentally friendly Bag alternative and a positive for the environment . Business owners looking for an eco-friendly way to promote your company, China Direct has a variety of non-woven polypropylene bags, all custom printed to your specifications. These custom non-woven bags are durable, and completely recyclable. Printed with your company logo, you will be sure to make a lasting impression on customers, who will use the bag over and over again. Use them for trade show, seminars, groceries, or take one to the beach, and reach those eco-friendly customers.
Rush Order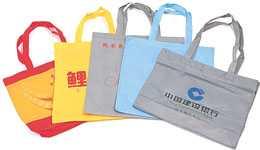 For those looking for a more regular bag format or 'bags in a hurry' we have many sizes and styles of Non Woven bags that will be ideal for you. Stock range of bags are manufactured from 80gsm weight, top grade polypropylene. Other weights are also available so ask which is the best suited to your particular circumstances.
Imprint Method
Printing is available in either Screen Printing or our full colour process printing using Heat Transfer.
The most appropriate process is used to ensure the best possible end result using your logo, message or graphic. So if you're after a one colour single sided design or a full colour process on both sides, you can achieve an amazing looking bag that's guaranteed to grab everyone's attention.
Custom Made Bags
Custom made bags have a minimum quantity order of 1,000 and can be delivered to you within 4 weeks, in some cases even quicker to meet tighter deadlines. Contact us now for a quote on your individual bag requirements, you'll be surprised just how easy it is to get the bag you want at a realistic price!
As we are a bag manufacturer and supplier our range is immense with styles including:
Tote, Library , Show , Delegate , Shopping , Shoulder , Messenger and Trade Fair Bags to name a few. click here to view
Of course China Direct also offers, a wide variety of custom printed paper bags , plastic bags , boxes, as well as shipping supplies which are all made especially to your liking, and wholesale priced. For custom manufactured products and large volume orders contact us for solutions to your most difficult packaging problems.
What is mean by gsm ? (60gsm ,100gsm, 160 gsm, etc..)
Thickness, gram per square meter (g/m2 or gsm) , a common metric unit of areal density, used for paper, fabric, and similar materials. One gram per square meter is equal to about 0.0294935 ounce per square yard. 1 ounce per square yard is equal to 33.9057 grams per square meter (g/m2 or gsm). The symbol gsm is commonly used for this unit, but g/m2 is the proper SI symbol.
Contac our sales rep today !

China Direct ! focused on providing sourcing services in China , supply corporate gifts , promotional products and trade show giveaway items.
Copyright © 2007-2008 China Direct ! All rights reserved. Web Site Design , Marketing , Advertising by Ginifab .